COPAC Payroll: Complete Payroll Accounting

We Make Your Life Easier
COPAC Payroll is dedicated to removing the burden of payroll from the Colorado business community at the lowest possible cost. We guarantee your payroll tax deposits are made on time or we pay the penalty and the interest.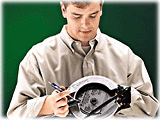 Impressive Track Record
Copac Payroll has been in business since 1974, and our accomplished data entry operators are among the fastest and most accurate available anywhere. Many of our clients have been with us for 20 years or more and that says a lot.
Reduce Hidden Costs
We can help you retain key employees, motivate staff, and reduce benefit costs.

COPAC Payroll output and reports will allow you to:
Track labor costs and employee turnover
Select cost-effective fringe benefits
Offer employees incentives, deferred compensation retirement plans, and reduced cost vacation plans
Proven Methods Designed For Small Business
Focus on making sales. Let Copac Payroll handle the vital but repetitive and time consuming tasks involved with payroll and employee benefits, including vacation, retirement, and incentives.
We are set up to run payroll fast and efficiently to save you money.